A Warm Welcome to Our Babylon Dental Care Patients!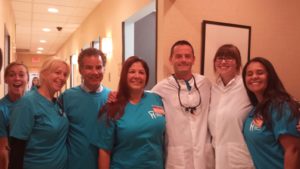 When you choose Babylon Dental Care for your oral care needs, we want to ensure that you are comfortable throughout your time with us.
We pride ourselves on our family-oriented approach, as we warmly welcome each of our patients when you step foot through our front doors.
Fostering a warm, welcoming office environment
If you are a new patient to Babylon Dental Care at either our Gateway Plaza or Great South Bay locations, we welcome you and thank you for allowing us to provide you with exceptional general and cosmetic dentistry. When you come to your first appointment, you will experience how we develop and maintain close relationships between our team members and our patients.
Our dentists and hygienists do not just jump right in and start working. Instead, we insist on taking the time to get to know you a little bit. We know and understand that dentistry is not just about teeth, but instead the patient. You can expect to be treated as if you were one of our own family members.
We truly care about helping our patients and we will give you more than you expect—-just ask our current patients! Our team strives to facilitate continued growth and change in ourselves and our patients. Gentleness, caring, trustworthy, honesty, and respect are some of our team strengths that we practice on a daily basis—and that is exactly what you can expect from our friendly team members!
Our caring, friendly practice environments
After you have experienced your first dental appointment with us, we hope that you leave our practice feeling uplifted and thankful that you have had a wonderful experience. If you ever leave our practice without smiling, then we have not completed our jobs properly.
To make dentistry a pleasure for all patients is one of our many goals. We offer you the best possible dental care with a gentle and comforting touch.
At our Gateway Plaza or Great South Bay locations, we are all about our family. On behalf of our dentists and team members, we welcome you to our Babylon Dental Care family as a new patient!