Cosmetic Smile Makeovers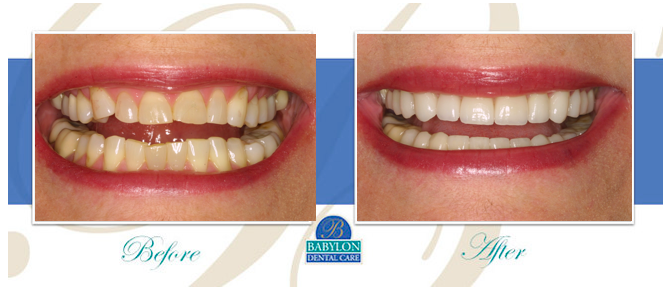 How would you like the opportunity to recreate your smile and design it using the latest dental technology? Well, you can take advantage of this opportunity when you schedule your cosmetic smile makeover consultation with our West Babylon, NY cosmetic dentists!
A smile makeover at Babylon Dental Care is the perfect way to obtain the smile that works best with your natural features. We have several years of experience with creating new, natural-looking smiles for our patients. We especially know how important it is to have an aesthetically-pleasing smile, especially during first impression instances and within the professional working world.
Cosmetic dentistry services at Babylon Dental Care
When you come in for your consultation, one of our cosmetic dentists will analyze your smile, discuss your health history, and design your natural-looking smile using any combination of dental services we offer.
To deliver your new, dream smile, we can use a combination of our cosmetic dentistry services, such as:
When we decide which combination of these cosmetic dentistry services to utilize, you will be well on your way to obtaining the sensational smile you deserve!
SNAP technology: Cutting-edge technology for your smile makeover
When designing your smile, we utilize the cutting-edge SNAP technology so you can preview your new smile before any procedures begin. We use this technology to simulate your smile, which allows you to make any adaptations before we start any procedure.
If you or someone you know is interested in a smile makeover, we encourage you to call us today at (631) 983-6665 for a complimentary cosmetic dentistry consultation.