Esthetic Dentistry: Creating Beautiful, Healthy Smiles
Our dentists are here to help you create the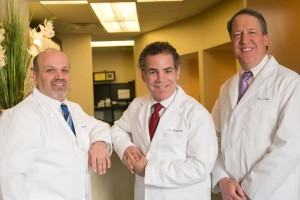 smile you've always wanted. We understand there are certain aspects of your smile that you dislike, but you are not sure how to fix them. Don't worry– our dentists will help you!
We will take the time to speak with you and listen to your smile concerns. We will help you understand the dentistry services available to you. One of our goals is to help you LOVE your smile!
There are a few common smile problems that patients experience, and that we can fix. We would like to share them with you so you can begin to understand how to fix your smile problems.
Some of my teeth look too short.
Many patients have this issue with their smile; some of their teeth look too short, causing them to be unhappy with their smile. We offer specific services designed to reveal extra gum tissue so that your teeth will no longer appear short.
We also offer orthodontic treatments to shift teeth slightly and make your smile appear more natural. Our experienced dentists will determine which treatments are right for you.
I've tried over-the-counter teeth whitening treatments, but my teeth are still discolored.
Teeth can get stained for many reasons, and it is not always easy to remove those stains. However, with our in-office teeth whitening treatments, we have multiple options to reduce or eliminate those stains once and for all.
We offer the Whitening for Life™ Program so you can take advantage of everything the program has to offer. With this program, you'll have a bright, new smile in no time!



Just keep your six-month dental exams and you'll receive additional whitening gel 2 times per year for the rest of your life! As a member of this innovative program, we ask that you keep your scheduled, routine hygiene visits.
An important part of an attractive, healthy smile is regular preventive care. We invite you to learn more about our teeth whitening program, and call us to ask any questions you may have.
I have a few missing teeth and I want to fix this problem.
We understand that no one wants to walk around with a bunch of missing teeth. We offer several treatments to fix your missing teeth problem, including full and partial dentures, bridges, crowns, and mini dental implants. Our dentists will evaluate your case and determine which of these restorative services will best meet your dental needs.
I have several silver fillings from when I was a kid. Can I get them replaced?
Tooth colored fillings are a great solution to fixing your old, worn out silver fillings. Tooth-colored fillings are also commonly referred to as "composite fillings" or "white bonded fillings" in the field.
In the past, the only solution to fix cavities was silver-mercury amalgams. Over time, old metal amalgam fillings can crack or leave patients with discolored teeth and are therefore less commonly used today.
In recent years, the composite fillings are chemically bonded to the problem tooth once the decay is removed. This process helps to protect the remaining natural tooth structure from breaking or eroding.
Our dentists will be able to replace your silver fillings with tooth colored fillings for a beautiful, healthy smile.