Loyalty Plan
Are you one of the 131 million Americans without dental insurance? We get it.
---
Welcome to the Babylon Dental Loyalty Plan! This dental discount plan is designed to help you and your family save hundreds or even thousands of dollars on your dental bills and to provide greater access to quality dental care.
Please note:
This program is a discount plan, not a dental insurance plan.
It is secondary to any other dental plan.
This plan is only honored at Babylon Dental Care.
Therefore, this dental discount plan is not an insurance plan, and cannot be used at any other dental office.
*Lifetime activation Fee covers your first month
*Monthly fees may be prorated for new members added to an existing account
With the Babylon Dental Loyalty Plan there are:
No yearly maximums
No deductibles
No claim forms
No pre-authorization requirements
No pre-existing conditions limitations
No waiting periods (immediate eligibility)
Free consultations
Loyalty programs are not insurance, but a payment arrangement provided by Babylon Dental Care, PLLC for services rendered. Membership is not transferrable to other dental offices. Payment for cosmetic or restorative treatment is due at the time of service. Membership dues must be current in order to receive services. A lapse of 28 days in dues will require a reactivation fee of six month's dues. Loyalty program discounts may not be combined with any other offers or discounts. It is solely the patient's responsibility to schedule and keep their appointments. No refunds will be provided for dues paid under any circumstances, including failure to schedule and maintain appointments. A patient member's monthly agreement is with the legal entity of Babylon Dental Care, PLLC. Monthly dues and fees for dental services may change at any time. Payment management services are provided by Illumisure.
Great dentistry can be expensive, especially if you don't have dental insurance. In order to better serve our community, we set out on a mission to find a solution for our uninsured patients. The result is our very own Babylon Dental Loyalty Plan, which enables you to make low monthly payments for preventive care while continuing to be a Babylon Dental Care patient.
Just like our Care Plan, you can join TODAY and receive your initial exam and x-rays FREE OF CHARGE. Plus…save on all other dental services, such as fillings, crowns, dentures, root canals, implants, Invisalign, and much more! The end result: greater savings on preventive and restorative care. Now that's a solution worth smiling about!
Start saving money today!
Our Loyalty Plan Program features:
Twice yearly preventive care: cleaning, exams, and xrays
A 20% discount on all restorative, elective, and cosmetic care.
Easy automated monthly membership fee.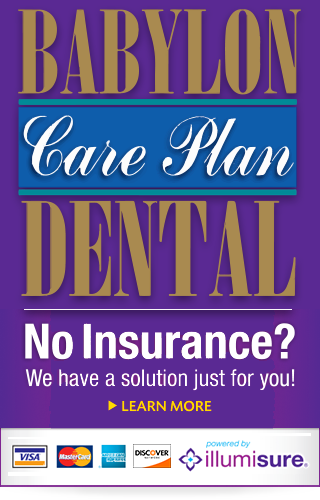 ---