Mini Dental Implants from Babylon Dental Care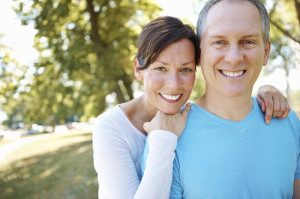 Babylon Dental Care is committed to offering cutting-edge dental services, such as mini dental implants (MDI). Imagine going to the dentist for your appointment, and leaving within an hour or two after your mini dental implants have been placed! They are becoming more and more popular nowadays with older patients, and with patients who have dentures.
What are mini tooth implants?
Mini implants are a smaller (in size) version of full-size tooth implants. They provide the same functions as their full-size counterpart, however, not all patients may be suitable candidates for mini implants.
Dr. Mark Knakal, our periodontist and implants dentist, offers mini tooth implants to patients of West Babylon, NY, Islip, and the surrounding areas. Patients who wish to restore functionality and who want stable, secure dentures can benefit from mini implants.
They are placed within the jawbone just like full tooth implants. Being attached directly into your jawbone promotes a strong, unwavering foundation for your new tooth.
Quick, relatively pain-free mini implants procedure
During this procedure, Dr. Knakal does not have to alter your gums, which means no cutting or stitches involved. Even though most patients will only experience a minimal amount of discomfort, we offer sedation dentistry to ease your fears and fully minimize all pain. Actually, most patients who choose this service also choose local or light anesthesia, and you can, too.
The service is considered a minimally invasive procedure, which does not require the long, drawn-out healing process that standard tooth implants require.
Call our West Babylon dentist office for your appointment!
Do you have dentures that keep slipping? If you are tired of applying messy denture adhesives to secure them, give us a call to find out if mini dental implants are right for you!
After we evaluate your teeth and gums, we will determine if mini tooth implants are right for your situation. If they are, you will have the opportunity to choose an affordable, effective alternative to dental implants– mini tooth implants. Actually, mini implants can sometimes be less expensive when compared to full-size implants.
We invite you to take advantage of our special web offer – clip the coupon and call our office at (631) 983-6665 to book your FREE dental implant consultation appointment today!