Orthodontic Services at Babylon Dental Care
Teeth straightening service options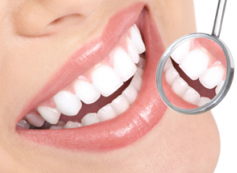 No matter what your teeth straightening needs are, we offer the orthodontic services to create beautiful, healthy-looking smiles. Our on-site orthodontist, Dr. Baker, is skilled and experienced with teeth straightening methods. Specifically, we offer:

Clear Ceramic Braces: These braces offer the precision of traditional metal braces while allowing natural tooth color to be seen instead of metal.
Full traditional braces: We offer metal-and-wire braces for those who want to straighten their crooked teeth for a beautiful, healthy smile. Full metal braces are great for patients who have severe tooth misalignment and other severe bite problems (i.e. underbite, overbite). Many adults and teenagers need metal orthodontic braces at some point throughout their lives.
Invisalign clear braces: We are Invisalign Preferred Providers with advanced training and experience with the clear aligners technology. Invisalign is great for patients who wish to straighten their crooked teeth with nearly invisible aligners. Our skilled dentists will determine whether or not you are a good candidate to get Invisalign orthodontic treatment. Please see our Invisalign page for more information.
Early interceptive treatment: When your child is between 2-6 years of age, our dentists can evaluate the teeth and gums to decrease the chances of him or her needing orthodontic treatment at a later age, or reducing the length of time braces may be necessary for. Early treatment is important for your son or daughter because we can correct certain problems, such as severe overcrowding, incorrect jaw position, overbite, underbite, and problems with the jaw joint (known as TMJ). The earlier on in life that we can correct these oral problems, the better off your child will be for a smile filled with straight teeth!
Straighten your crooked teeth today!
Why is it so important to have healthy, straight teeth? We'll tell you why!
Straight teeth make it easier to clean between the teeth, which is where cavity-causing bacteria like to breed. As you can imagine, flossing is much easier in this situation.
A smile filled with straight teeth is definitely a self-esteem booster. So go ahead and make those great first impressions a breeze!
For a complimentary orthodontic dentistry consultation, call our office today to schedule your appointment if you live in the Babylon area. We will help you determine which orthodontic service is the best for you!