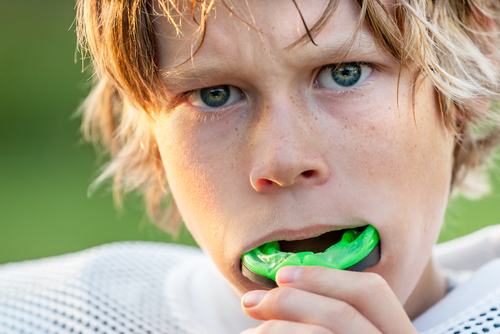 The American Dental Association (ADA) Council on Scientific Affairs and the Council on Advocacy for Access and Prevention both recognize that dental injuries are common in many collision or contact sports as well as other recreational activities. For this reason, mouthguards are shown to reduce the chances of such injuries are highly encouraged for sports participants of both genders and all ages.
The ADA advocates for properly-fitted mouthguards for the following contact or collision sports:
Basketball
Martial Arts
Boxing
Rugby
Football
Soccer
Handball
Water polo
Hockey (Ice and Field)
Wrestling
Lacrosse
The ADA also endorses the use of mouthguards in other sports with more limited contact, such as acrobatics, skateboarding, baseball, skiing, bicycling, skydiving, equestrian events, softball, field events, squash, gymnastics, surfing, in-line skating, volleyball, racquetball, weightlifting, shot-putting, and "extreme sports."
The ADA Council of Scientific Affairs and the Council on Advocacy for Access and Prevention state that an ideal mouthguard should be properly fitted to the wearer's mouth and accurately adapted to their oral structures, be made of resilient material approved by the U.S. Food and Drug Administration (FDA), cover all teeth on one arch, stay in place comfortably and securely, be physiologically compatible with the wearer, be relatively easy to clean, and have high-impact energy absorption and reduce transmitted forces upon impact.
The most common kinds of mouthguard are the stock mouthguards that are usually available in a variety of possible sizes but it not adapted to a user's mouth. Other mouthguards may be mouth-formed (also known as boil and bite) that are adapted to a user's mouth, and some mouthguards are custom-made in dental offices or other laboratories.
When you are looking for a mouthguard, you should try to find one that has the ADA Seal of Acceptance. The ADA Seal represents that a product has been objectively evaluated for safety and efficacy by the ADA Council on Scientific Affairs.
The ADA reported that a 2002 study of 70,836 college basketball players found a rate of 0.67 dental injuries per 1000 exposures in players not wearing mouthguards compared to a rate of 0.12 in players wearing custom-fitted mouth guards. Another 2007 meta-analysis of 14 studies of a number of team contact sports found an increased risk of orofacial injury of 1.6–1.9 times in players not using a mouthguard.
According to the ADA, a 2018 systematic review and meta-analysis found the prevalence of dental trauma among mouthguard users to be 7.5 to 7.75 percent compared to 48.31 to 59.98 percent for non-users. The study also found that mouthguard users were between 82 and 93 percent less likely to suffer dentofacial injuries.
Contact Us
If you want to reduce your risk of dental injuries while participating in recreational sports or other activities, do not wait to contact Babylon Dental Care for assistance getting a custom-fit mouthguard. We can help you protect your teeth and give you a mouthguard that will be easy to maintain.
We have two convenient locations in Great South Bay in West Babylon and Gateway Plaza in Patchogue. You can have us discuss all of your options with you when you call (631) 983-6665 or contact us online to schedule a free consultation.