Missing teeth can damage a person's self-esteem and cause issues while talking and eating. Dentures might be the perfect solution to your problem. However, you might be wondering if dentures are right for you. To answer that question, you might need to learn more about them.
Dentures have evolved over the years into practical and affordable ways to fix an unsightly smile. Technological advances make the dentures that are available today look and feel like natural teeth and sturdy enough to last a long time.
Common Types of Dentures
Multiple types of dentures are available depending on your specific needs. The most common types are below.
Full Dentures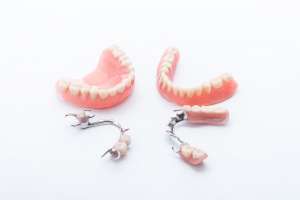 Full dentures replace a complete set of teeth. Dentures for the upper teeth contain a flesh-colored base to cover the roof of the mouth and gums for a firm fit. Dentures for the lower teeth are similar, but the shape of the base differs to fit the lower gums without covering the tongue.
Your dentist will remove any teeth that remain before fitting your mouth for full dentures. The jawbone reshapes slowly over time to adjust to the insert. The dentist might wait a few months before taking measurements and constructing or ordering a full set. Temporary dentures can keep you comfortable while waiting for your permanent set, so you're not left without teeth.
Partial Dentures
Partial dentures are available if you're missing one or multiple teeth, but not all. They can fill in gaps in your smile and match your original teeth, so no one knows you're wearing anything in your mouth.
A dentist can attach partial dentures to natural teeth in multiple ways. The most common method is using metal clasps to grip the teeth. Another option might be to adhere the partial dentures to the original teeth with less noticeable attachments. Partial dentures can also fit over crowns on the teeth. Crowns are beneficial because they improve fit and prevent dentures from falling out.
Advantages of Using Dentures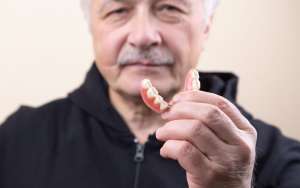 Modern dentures are comfortable and functional. It might take some time to adjust to having them in your mouth, but you likely won't notice they're there once you do. Dentures are beneficial for many reasons, such as:
Durability – Dentures are durable enough to enjoy the foods you usually eat. You don't have to worry about damaging them. They can last a long time with proper care.
Comfort – Dentures are more comfortable than ever with today's technology. Your dentist can customize the perfect fit to avoid limitations while chewing and talking.
Restore your smile – Dentures can restore your smile and confidence. You will no longer feel ashamed during social interactions or feel the need to hide your teeth.
Support the face – Your natural teeth support your face. However, the support is no longer there when you start losing teeth. Your dentures can replace the support you once had to maintain your facial appearance.
Delay disintegration – Bones start to deteriorate when teeth fall out. Your dentures will support your oral bone structure and slow the rate of disintegration.
Prevent wear and tear – Partial dentures diminish excessive wear and tear on remaining natural teeth. Forces while chewing will distribute evenly to every tooth in your mouth.
Easy maintenance – Maintaining dentures is simple. Since they're removable, you can take them out every night to clean them.
Steps for Getting Dentures
Your dentist will complete multiple steps to fit you for partial or full dentures. These steps include:
Dental exam – You must undergo a dental examination so your dentist can determine your needs. The dentist will look for signs of tooth decay or infection and decide whether they need to remove your remaining natural teeth.
Create a mold – The dentist will take measurements and create a mold of your upper and lower jaw to create dentures that fit correctly.
Fit the dentures – After building the perfect dentures for you, your dentist will insert them to ensure they're the right fit and don't cause discomfort.
Adjust them – There's often an adjustment period after getting fitted for dentures. It can take time to get used to talking and eating while wearing them. If you notice problems, contact your dentist immediately. They might have to adjust the dentures for a better fit.
Contact Babylon Dental Care Today
A smile with missing teeth can reduce a person's confidence and quality of life. Performing basic tasks, such as eating, is more challenging. Missing teeth can also affect your health if food gets stuck in gaps and creates a build-up of bacteria.
Babylon Dental Care has provided restorative dentistry services, including full and partial dentures, to New York clients since 1983. We are ready to give you the smile you always wanted.
Call us at (631) 983-6665 for an appointment to discuss your denture options. We have offers for new patients, complete dental care plan packages, as well as financing options, so there's no reason to wait. Call today.