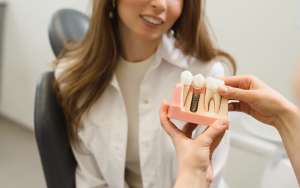 It is sometimes difficult to discern whether a procedure is covered by health insurance or dental coverage. This is especially true when it comes to dental implants. Are they covered by dental insurance? Well, that depends on what kind of insurance you have and what type of implant you receive. Not all insurance policies are the same, and not all implant procedures are the same, either.
Understanding Dental Insurance Coverage
Unfortunately, many insurance companies look at dental implants as cosmetic and not medically necessary. For this reason, they are often not covered. However, replacing a missing tooth or teeth can be critical to a person's physical and mental health and well-being.
Both medical and dental insurance coverage may have to be utilized to cover your dental implant procedure. Take the time to review your insurance policy to see if the specific procedure you want is listed. If it is not clear to you after reading your policy whether the procedure is covered, you can call your insurance company and ask some key questions, such as:
Does this policy cover implants?
If so, what percentage of the total cost is covered?
Does the policy require a referral before dental implants will be covered?
Is there a maximum out-of-pocket dollar amount per year?
The staff at Babylon Dental Care will be happy to inquire about whether your insurance company will cover your treatment or not.
What Are the Elements of an Implant Procedure?
If you are trying to determine whether your dental implant procedure is covered, you might need to look up each individual portion of the procedure to determine what is or is not covered. Following is a list of procedures that usually comprise a dental implant, and some information about what, if anything, is usually covered by insurance companies.
Tooth Extraction: If one of your teeth has been completely knocked out, then obviously, you don't need to have it extracted. Often, however, all or part of the damaged tooth is still present and will have to be removed before an implant can take its place. Most dental insurance policies will cover such extractions in full or at least in part.
Bone Grafting: Sometimes, to give an implant a strong foundation, a patient's underlying jawbone must be reinforced. Despite the fact that this is a crucial step in the implant procedure, it may not be covered by dental insurance.
Placing the Implant: Most insurance companies deem the implant placement as a "major" dental procedure. "Major" in this case has more to do with the cost than the intensity of the treatment. Major procedures are covered up to 50 percent by some dental insurance plans.
Placing the Artificial Tooth: Also considered a "major" procedure by most insurance companies, attaching the artificial tooth or "crown" to the implant post provides you with the appearance and functionality of a natural tooth. Again, because it is considered a major procedure, it may be covered up to 50 percent.
How Much Does an Implant Cost with Insurance?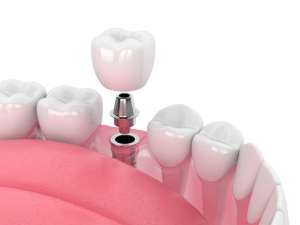 We can't give you a specific dollar amount for the cost of an implant. The cost of a tooth replacement is typically 20 to 50 percent less if you have insurance. In some cases, however, it might only be ten percent less. This is not taking into account whether you have reached your annual deductible.
The overall cost of an implant is dependent on many factors. Some of these include:
The density of your jawbone
The condition of your gums and teeth and your general oral health
The type of implant you receive
Whether you are getting upper or lower implants
Whether you need additional surgery
If you don't happen to have insurance, be sure to check out our Care Plan. Enrolling in the plan can help you save money on your basic dental needs.
Schedule an Appointment with Babylon Dental Care Today
If you have had a tooth damaged and need an implant, or if it has been more than six months since your last check-up and cleaning, contact our friendly and qualified Babylon Dental Care team at (631) 983-6665. We will address all your dental concerns in a compassionate and non-judgmental way.
We offer comprehensive examinations and state-of-the-art treatments. Remember, good oral hygiene is one great way to avoid many health issues, so don't forget to schedule routine cleanings.
We understand that you may have some anxiety and fear about going to the dentist. Let our dentists and staff provide the kind of compassionate, inviting dental care experience you deserve.