Babies are adorable little humans who are dependent on us to take care of them. Not only do we have to feed them, bathe them, and teach them, we also have to try our best to keep them healthy. Health isn't limited to just the bigger systems in their bodies, like their brains, stomachs, and bones. We also have to maintain their teeth and oral health because oral health is often the gateway to other health issues.
Caring for your baby's teeth and oral health is similar to how we take care of our teeth as adults. But because babies either haven't grown teeth or are beginning to sprout their first teeth, it's important to remember that caring for babies' gums is equally important.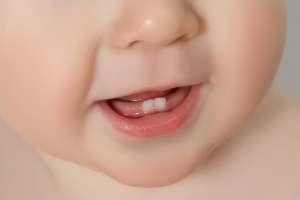 The Importance of Caring for Your Baby's Teeth
Even if your baby does not have teeth yet, you can start taking care of their teeth now. Healthy teeth start with healthy gums. Caring for your baby's teeth and gums can minimize their risk of oral disease when they're older and can even minimize their potential need for dental or orthodontic treatment as older children and teenagers. Tooth health is important for the health of the rest of your body, as there is evidence that oral issues, such as tooth decay and gum disease, can lead to disease elsewhere in the body, like in the cardiovascular system.
There are things you can do for your baby now to help keep their gums healthy and to take care of their teeth as they grow.
Brushing
Brushing our teeth may seem like a mundane task that we've become accustomed to doing every day as adults. We want to keep our teeth healthy and maintain a nice smile. So when it comes to our babies, it's just as important to brush their teeth, too (or their tooth, if they've only just started sprouting one).
Brushing will keep a baby's teeth healthy and remove tar and plaque, which can cause teeth to deteriorate if it builds up. Even though babies' diets are limited to milk, cereal, and baby food, the sugar that is contained in those foods and liquids can lead to cavities.
When brushing your baby's tooth or teeth, use a very soft-bristled brush. If the brush is too hard, it can hurt your baby. You don't want your baby to grow up scared of brushing their teeth. When brushing your baby's teeth, you may use a fluoride-free toothpaste that is made for babies and children. Be sure to read the labels on the toothpaste to make sure they are baby or kid-friendly and for instructions on how much toothpaste to use.
If your baby doesn't have teeth yet, it's still important to clean their gums. You can use a wet wipe or a soft, wet cloth to wipe back and forth across your baby's gums. You want to refrain from using any toothpaste because most kinds of toothpaste are not safe for use on babies.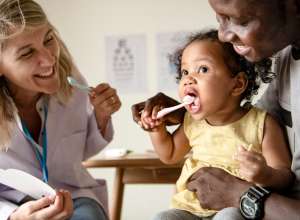 Routine
There's also an added benefit of caring for your child's teeth from a young age. You're creating a routine for them when you care for their teeth every single day. It's well known how beneficial routines are for children. But not only that, you're teaching your little one from the time they're in diapers how important it is to practice good oral hygiene. Because you've done it for your child as a baby, it will be easier to continue their oral hygiene routine as they get older and begin to do it for themselves.
Call Babylon Dental Care for Baby's First Dental Appointment
At Babylon Dental Care, we serve patients in two locations in New York: Babylon and Patchogue. We were founded in 1983 with a mission to treat every patient we encounter like they are our family. When you're greeted by our front desk staff and assistants, interfacing with our hygienists, and being treated by our dentists, you'll always feel like we know you and that you're being seen and heard. That is our approach to patient care in dentistry.
We've built our reputation in the community on putting our patients first. When you leave Babylon Dental Care, our goal is to have you feeling confident about your smile and that your teeth and oral health has been well taken care of.
Don't hesitate. Call us today at (631) 983-6665 or (631) 983-2937 to make an appointment for your baby's first visit. When you get them started with good oral care early, you're making a gift of good health to your child that will last a lifetime.