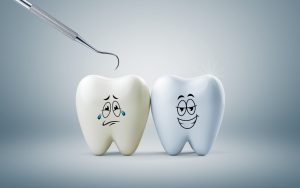 Dental offices have changed much of their general practices as the rise of COVID-19 made nearly every part of a dental visit – either routine or for a procedure – more difficult. Because the virus spreads through the air and bodily fluids such as saliva, dentists have shifted their focus away from complex surgeries to more standard preventative practices, according to the CDC.
Initially, one of the most basic changes dentists made was to eliminate all appointments unless the patient was experiencing a dental emergency. Dentists also temporarily postponed elective and unnecessary procedures and visits. The CDC recommended that dentists prioritize patients that needed care immediately or would worsen if they were not treated in a timely manner. Whenever possible, dental offices were encouraged to use teledentistry to reduce person-to-person contact as much as possible.
If a patient requires in-person care, dental offices are required to ask their patient and accompanying guests to wear a face covering. Dental offices also provide hand sanitizer, clear plastic barriers at the front desk, and take patients' and guests' temperature when they arrive. Dentists now wear gowns, face shields, face masks, N95 masks for certain procedures, and gloves when interacting with patients.
Additionally, dentists have shifted their focus to non-aerosolizing procedures to reduce the risk of spreading the virus through the air. Before the threat of the virus, aerosolizing procedures were common in every dentist's office. An aerosolizing procedure is any procedure that increases the chance of a patient coughing, sneezing, or talking. According to Madison.com, many dental hygienists have ceased using ultrasound tools to clean teeth, as these would spread small droplets of saliva. Some dentists and hygienists also use dental dams to cover parts of the mouth they are not treating to reduce the risk of additional droplets getting into the air.
More dental offices have installed air purifiers to clean the air between patient visits to cut the risk of inhaling virus-containing air particles.
Preventative Care Is Crucial
Dentists' offices have implemented the steps outlined by the American Dental Association and the Centers for Disease Control and Prevention so that they can offer the routine dental care that communities need. Most dentists agree that delaying care until the end of the pandemic could be harmful to your oral health. Oral health has been shown to have an impact on your systemic health, as well. Periodontal disease has been linked to cardiovascular disease, diabetes, bacterial pneumonia, and more.
Make an Appointment at Babylon Dental Care
Don't let the coronavirus get in the way of seeking the dental care you need. Skipping routine dental visits could be dangerous for your overall dental health. Our offices are back open for all types of visits, including regular cleanings. We are following all CDC guidelines and taking every precaution to keep our patients safe. Call us today at (631) 983-6665 to schedule an appointment, or contact us online.