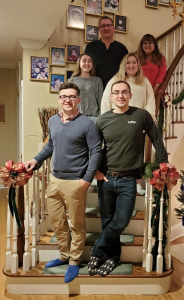 Doctors John and Silvia Baker have been a part of our BDC family for a little over thirty years.  It brings us great joy to announce that they will be seeing patients in our Gateway Plaza location on beginning March 3, 2022.
In reflecting on all the years of service and to celebrate their joining the team at Gateway we reflected on their time with BDC, Silvia and John joined our family shortly after graduating dental school.  Silvia worked then took time off to have their 4 amazing kids.  Over the years we have been blessed to watch all their kids grow up and this past year it was great to see all the Baker bunch are joining the medical service.  From nursing to dental school, they clearly picked up on their parents love and talent of treating patients.
One of the nicest things that Silvia Baker spoke about was that she is now seeing kids of her longtime patients who came to her as kids.  "While is makes us feel old, it is so rewarding!"  Their passion for patient care and giving more in service has been evident through the years by both Bakers.  John Baker recently shared how moved he was to see a patient as an adult and being able to finally deal with the patient's ongoing dental issue, "she was in tears knowing she was finally able to get this all taken care of".  Both Dr Baker's love their patients and continue to look forward to watching their patients grow up in our practice.
Silvia was also sharing how special it was when she started her first day in the Gateway location (last Thursday) and she got to work with Bobbi.  Saying, "I've known Bobbi for years, she used to babysit our kids".  While we appreciate having John and Silvia seeing our little ones, they appreciate how through so many changes and the growth that BDC has experienced, we have always remained "a family". They both describe the trust between all the team members, the teamwork and how everyone is there to help one another in service.  They both recognize that BDC continues to honor our unique abilities in service and stay true to our commitment to "treat our patients like family, while providing an experience that exceeds expectations".  That does not happen with just one or two, it happens when the entire team is in alignment and work together.  When asked about our Gateway Plaza location, Silvia described it as "calming" and she loved the "relaxing energy".  Both our Practices have very different energies that we are proud of because it truly honors our patient's growing needs.
Both John and Silvia are excited to meet our new Gateway Plaza families.  They look forward to growing in our Patchogue community and helping our little ones have a special, non-stressful dental experience.  Dr. John Baker is our Orthodontist and Dr Silvia Baker sees both our little patients and adults.  Both Bakers have your dental needs covered and we know you will appreciate being cared for by them!