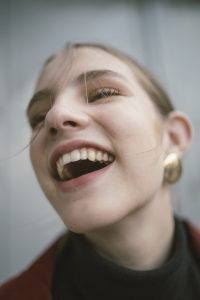 Summertime may be time for kids to get out of school, but your children still have the opportunity to learn from their parents every single day. That's why the American Dental Association has launched a collaborative effort with the Colgate-Palmolive Company to bring national attention to oral health during the month of June.
Families are encouraged to take a picture of themselves brushing, flossing, and showing excitement about going to the dentist through Facebook, Twitter, Instagram, or Google+. For every photo that is shared online with the label #TimetoSmile, Colgate will donate $1 to Give Kids A Smile, a program that helps underserved children receive the dental care that they need. If you don't feel comfortable sharing a photo of your family online, Colgate is also recognizing likes and reposts as part of their donation plan. With enough #TimetoSmile posts, Give Kids A Smile could receive up to $40,000 in donations!
Part of the mission to make June the nation's official Oral Health Month is to help kids and families realize how important teeth and gums are for their future happiness. With healthy mouths, our smiles exude confidence and we can easily enjoy our favorite meals. Friends and family enjoy seeing a loved one smile, and you should feel comfortable showing your teeth.
The best time to start introducing oral hygiene to your children is when they are young. Aging reduces the body's ability to fight off plaque and gum disease, and habits that are instilled at an early age are more likely to be continued into adulthood. We want to celebrate our health and help you share happiness with a fresh smile throughout your life.
Regular brushing and flossing are critical to maintaining healthy gums and clean teeth. Without consistent cleaning, food particles stay trapped in the tiny crevasses between teeth, providing a source of nutrients for harmful bacteria to grow. Mouthwash is another excellent tool for keeping mouths healthy because the liquid cleanser is highly effective at destroying bacteria that cause plaque in hard-to-reach places that a toothbrush or flossing can't access. Although baby teeth will eventually be replaced, it's important to protect them, too. That's because permanent teeth develop while baby teeth are still present, allowing for the bad bacteria that cause gum disease to spread to the new teeth.
Above all else, it's essential that you and your family see a dentist at least once per year. Babylon Dental Care strives to provide every patient with exceptional dental services, and we want to celebrate Oral Health Month with you! Regularly visiting the dentist is the most effective way to maintain a happy smile and ensure that your oral health is protected. Through regular checkups, our team is able to give you specific advice to combat oral health issues before they become serious problems. Contact us to schedule an appointment today by calling (631) 983-6665.