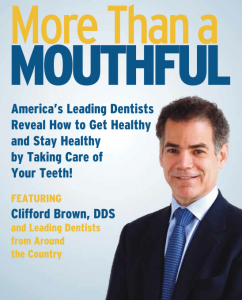 If you've ever wanted to know more about dentistry beyond what you see during your short visits with us, you're in luck! Our own Dr. Clifford Brown was recently featured in the book More Than a Mouthful, alongside a number of other expert dentists. The book covers everything from the latest advances in dentistry to advice for improving your dental health. Short and easy to read, it's perfect for those who would like to know more about dentistry but don't want to spend the effort trying to understand dense manuals or jargon-filled articles. Interested in reading the book? You can pick up a free copy at either one of our locations!
In Dr. Brown's chapter, "Dentistry Makes a Difference," he discusses the far-reaching positive effects dentistry can have for patients. Those of us who regularly visit the dentist often feel like our trips are relatively unimportant. When we maintain our oral health, a visit to the dentist is rarely a big deal. Ironically, our regular visits to the dentist can blind us to the true power of dentistry.
If you haven't been able to visit the dentist for a long time, serious problems can arise that may extend beyond your oral health. Severe pain, increased risk for even non-oral diseases, declining work performance, and social anxiety can all result from poor oral hygiene. Luckily, even after suffering from these and other issues, an experienced dentist can help restore your oral health and improve your quality of life.
In his chapter, Dr. Brown shares stunning success stories of how dentistry changed people's lives for the better, from returning a stand-up comedian to the stage to helping a patient overcome severe anxiety. The chapter is a testament to the power of dentistry in improving people's lives and illuminating for those of us who think of visits to the dentist as nothing more than routine.
To read this heart-warming chapter and learn more about the amazing world of dentistry, pick up a free copy of Dr. Brown's book More Than A Mouthful today at either one of our locations! And after you finish the book, be sure to schedule an appointment with us here at Babylon Dental Care so you can maintain your oral health, and maybe discuss what you've learned with Dr. Brown. Give us a call at (631) 983-6665 to schedule your appointment.