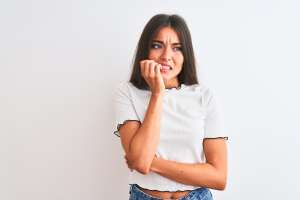 Are you afraid of the dentist? You're not alone! Studies estimate that dental anxiety affects 13% to 24% of people around the world. It's so common, in fact, that the iconic show Seinfeld created the term "anti-dentite" and dealt with the phobia on an episode.
The best thing you can do as a person who suffers from fear of the dentist is to tell us about your phobia. We can help! Many of our patients suffer from the same fears you do. Often all our patients need is a welcoming smile and reassurance that we understand what you're going through. Our gold standard of service allows our patients to relax and get through their appointments without fear. We will walk you through each step, let you know about any discomfort you may experience, and make absolutely sure that you are feeling well at all times.
If you'd like a little more help during your appointment, we also offer sedation dentistry. There's no reason to avoid the dentist for years because of your phobia, or to suffer during your appointment in terror if your fear is that serious. We want you to feel as relaxed and comfortable as possible and we are happy to offer sedation so that you can get through your appointments with ease. We offer nitrous oxide, commonly known as laughing gas, oral conscious sedation, a medication that will offer a mild sedation, and IV sedation which will let you sleep through your procedure.
No matter what you need, Babylon Dental Care will help you with your fears and make your appointment as comfortable as we can. Our patients with dental anxiety have had their worries lifted when they come in for their appointments with our caring and gentle team. Read just a few of their reviews below for a first-hand look at what an appointment with Babylon Dental Care is like!
"Who knew! I have always been afraid of the dentist because of a bad experience 25 years ago. This office renewed my comfort and gave me the confidence to move forward and take care of dental work that should have been done years ago. The staff doctors and office personnel were so caring and receptive to my fear." – Loretta
"If you have a fear of the dentist, Babylon Dental Care is the place for you. I always have an amazing experience when I visit Babylon Dental Care and I used to be someone who was very afraid of the dentist. I highly recommend this dental practice for all of your dental needs. Fantastic group!" – Robert
"Dr. Wrann and Erica were the kindest people. No matter how many questions I asked they were patient and kind. I was so anxious, and they soothed my anxiety. I am so grateful." – Antionette
"This is the kindest, most compassionate office I have ever been to. Every person on staff is polite and courteous; not something you see too often these days. I 'hated' going to the dentist so much that I would only go when I had a problem. Since I started using Babylon Dental Care about 8 years ago, I go 2 to 3 times a year for a cleaning and just to make sure everything's ok. I recommend this practice to everyone I know!" – Nancie
You don't need to fear the dentist anymore. When you come to Babylon Dental Care, we will take care of you. Call us today at (631) 983-6665 to book your next appointment!