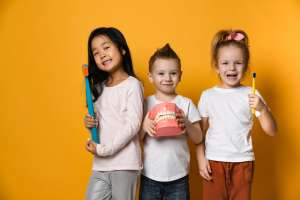 You've been looking after your children during the Covid-19 pandemic, and you have enough on your plate. Between keeping them safe from infection, keeping up with school work from home, and finding enough activities to keep them healthy and active, getting your kids to the dentist simply wasn't possible. Now that the number of vaccinated people is increasing, and we're all starting to get out into the world again, it's time to start scheduling those missed cleanings and checkups to keep your kids' teeth healthy and strong.
The pandemic kept most families from visiting the dentist. Staying home and limiting contact with anyone outside your family was essential to stopping the spread of Covid-19. But now that infection rates are decreasing, dentists are asking parents to start making up for missed appointments and get their kids in for regular cleanings. According to a statement by the ADA from December of last year, dental care is essential health care and should be treated as such.
Dental caries, or cavities, remain the most common chronic disease for children and adolescents ages six to 19, according to the CDC. Although the addition of fluoride to our water continues to help prevent the loss of tooth enamel, regular dental checkups are still required to remove plaque and check for cavities, especially in children.
Even though it may be tempting to dismiss cavities in children as nonurgent, especially those occurring in baby teeth, teaching good dental hygiene habits at an early age is essential for keeping teeth healthy later in life. The reason for this is two-fold. Regular trips to the dentist allow your child to grow accustomed to the experience and let them build a relationship with their dentist and hygienist. This can help them avoid the stigma and fear of going to the dentist later on. The second reason is that the earlier your dentist identifies problems with your child's teeth, the sooner they can be addressed. Letting a cavity go untreated, even in baby teeth, can result in additional cavities, gum disease, and even more frequent trips to the dentist.
If you're still nervous about taking your child to the dentist during the pandemic, know that the team at Babylon Dental are committed to keeping you and your family safe. This includes:
Pre-visit health checks to ensure that patients visiting us have not been exposed to the virus. Those who have will be asked to reschedule.
Staggered appointment scheduling to limit the number of patients in the waiting room.
State-of-the-art purifiers that produce medical-grade, surgically clean air for your safety.
Online completion of paperwork to reduce the time spent in the office.
Temperature checks for all visiting patients. If you have a high temperature, we'll help you reschedule your appointment.
All team members wear full PPE including gowns, head covers, face guards, gloves, and masks.
We perform enhanced cleaning every day, utilizing fog fumigation to kill any traces of the virus on surface areas.
A study released by the ADA in December of 2020 showed that due to the stringent protective measures being taken at dental offices all over the country, fewer than 1% of dentists were estimated to have Covid. So if you've been putting off that scheduled cleaning for your child that was missed last year, now is the time to get back on track.
If you or your family need to schedule an appointment, call Babylon Dental Care today at (631) 983-2937. We're standing by to help keep your family's teeth and gums clean and healthy. Call now.