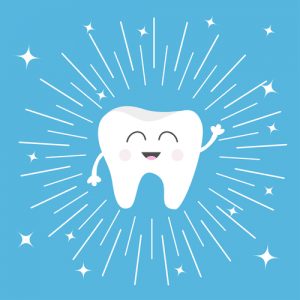 October is National Dental Hygiene Month, which is an excellent time to focus on the importance of good oral health. As part of National Dental Hygiene Month, toothpaste and dental hygiene products company Colgate announced it would be focusing on four essential activities: brushing, flossing, rinsing, and chewing.
The American Dental Hygienists' Association (ADHA) also announced that it was encouraging people to celebrate National Dental Hygiene Month by sharing stories of what makes them #DHProud. The ADHA encouraged people to visit the organization's National Dental Hygiene Month 2018 Facebook page to submit a photo and caption explaining what makes them #DHProud, and entries would be featured on the ADHA's social media channels throughout the month.
Proper Brushing
People should brush their teeth by placing their toothbrush at a 45-angle degree to the gums and gently moving the brush back and forth in tooth-wide strokes. People should be sure to brush the outer surfaces, inner surfaces, and chewing surfaces of their teeth.
When brushing the inside surfaces of teeth, the brush should be titled vertically, and the motion should include up-and-down strokes. A person should also brush their tongue to help remove bacteria and keep their breath fresh.
Proper Flossing
When it comes to flossing, dentists recommend taking 18 inches of floss and winding the floss around your fingers such that you have an inch or two of floss to work with. Holding the floss between your thumb and index finger, you should slide the floss up and down between your teeth.
You should try to use the clean sections of your floss as you move from tooth to tooth. The two types of floss are generally nylon (or multifilament) floss and polytetrafluoroethylene (PTFE or monofilament) floss.
Proper Rinsing
Mouthwash is not a substitute for brushing and flossing, but it can be a beneficial step to take in that it can be helpful in preventing tooth decay when used in conjunction with proper brushing and flossing techniques. In many cases, less is more with rinsing, and a person should try to rinse with as little water as possible.
Most people use fluoride for their rinse, and fluorides may offer unique benefits depending on the brand that is purchased. Other people may prefer to rinse using a small amount of water that they mix with the toothpaste in their mouth to swish around and spit out.
Proper Chewing
Clinical studies have found that chewing sugarless gum for 20 minutes following meals helps prevent tooth decay. MouthHealthy.org, a website of the American Dental Association (ADA), states that chewing sugarless gum increases the flow of saliva and washes away food and other debris, neutralizing acids produced by bacteria in the mouth and providing disease-fighting substances throughout the mouth.
Contact Us
If you need help improving your dental care to get the smile that you want, do not hesitate to contact Babylon Dental Care. Our dental hygiene team has a variety of services that will help ensure that you have a healthy smile this October. Call (631) 983-6665 or contact us online to schedule an appointment today.